Product Description:
Feature
The overall forklift adopts to unique appearance design, which conforms to the newest appearance design trend with fluent and the feeling of dynamic. Minor diameter steering wheel greatly improve operating comfort, which also can reduce fatigue strength of operator. It relies on hydraulic shifting and electronic steering. Also, it is light and flexible. The frame structure is optimize, which can reduce the overhang front. Lifting capacity of the forklift is in the leading comparing with the same industry. In the meanwhile, it optimizes the layout of overall forklift. The center of gravity is back moved, which strengthens it operating stability. Comparing with the original forklift, the coefficient of stability of overall forklift promotes 20%. The intake pipe of engine adopts to high position autonomous channels, which can prevent dust intake efficiently.
It also equipped with large volume pipe radiator to optimize heat dissipation channel and improve oil temperature and water temperature, which can promote the heat dissipation ability of the forklift. The forklift adopts to reinforced YQXD100 gearbox. It optimizes the transmission ratio and widen torque output range. It can enhance traction in the meanwhile it can increase the speed when it is in light load. The main stress component adopts to finite elements analysis, which can ensure the structural strength and rigidity. In the meanwhile, it increases more than 15% lifting capacity of the forklift. The moving parts adopts to motion simulation, which can ensure all kinds of stable and smooth mechanisms traveling. The hydraulic system adopts to dual-pump system with front valve confluence and stable veering shunt. System motion is unique and stable. All hydraulic ram adopts to international brand sealed component with a long service life and impact resistance.
The braking adopts to vacuum servo, which is soft and reliable. Domestic famous brand turbocharged engine is equipped with powerful drive and energy conversation and environment. Combining famous brand hydraulic shift gearbox with drive axle, reasonably, it has the superior traveling performance. It adopts to split side idler structure. Stress of portal is reasonable with stable traveling. Equipped with telescoping transmission shaft, it can remove the additional angle accelerated speed, automatically, which caused by the change variation of transmission. It can enhance the transmission shaft service life. With the unique frame physical design and the connection between engine and rear axle, rear forklift, it avoids the flaw owing to lacking rigidity in industry. In the meanwhile, it can reduce the shaking of the forklift. Inner storage board adopts to wholly massive structure, which can strengthen rigidity , meanwhile, it can enhance usability. It cab reduce welding deformation.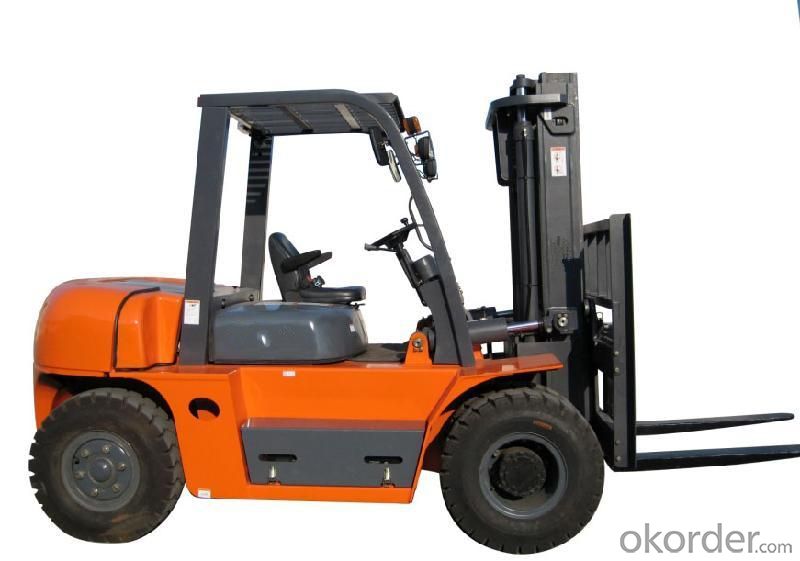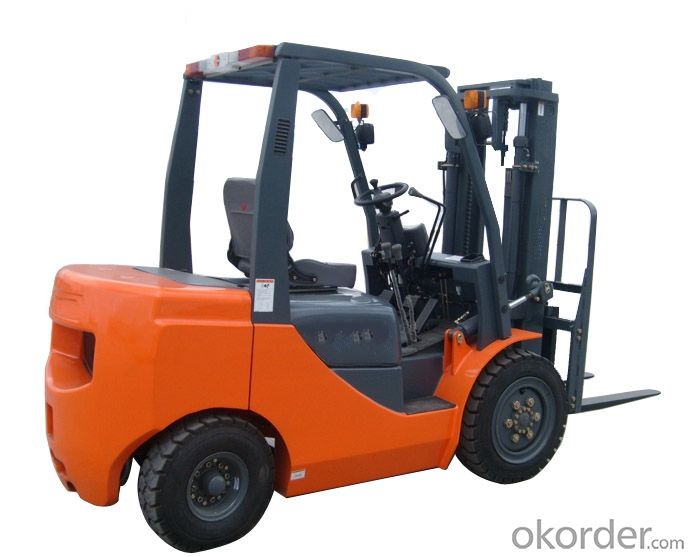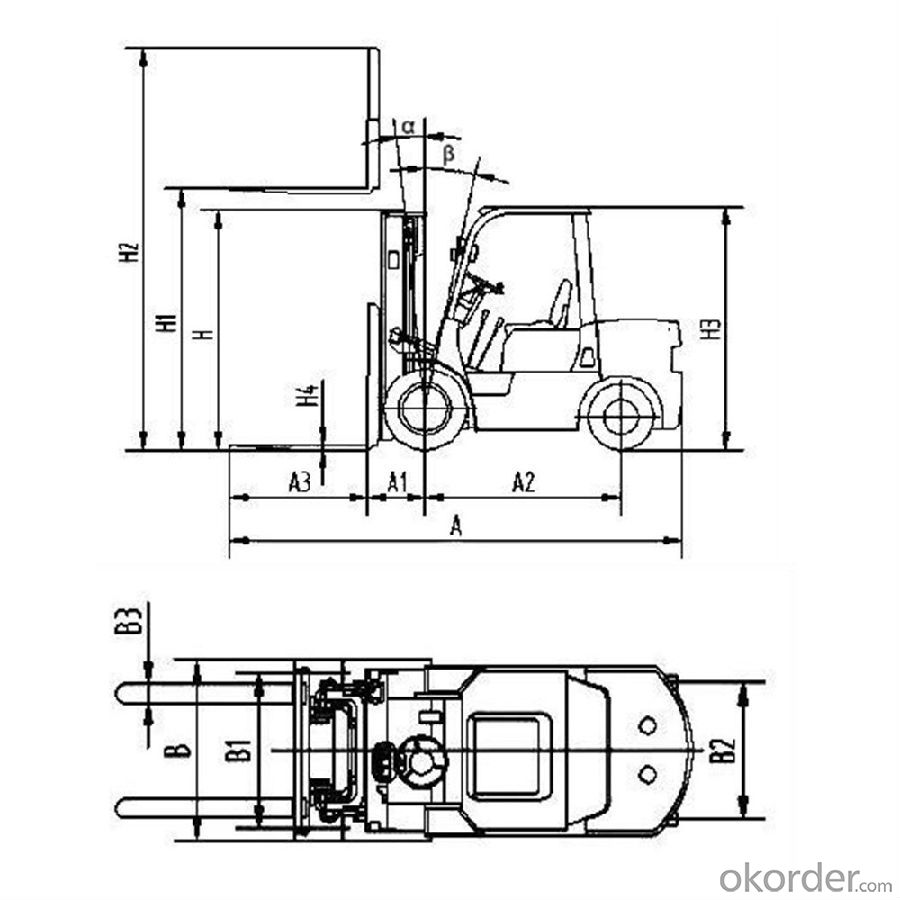 Model

CPCD20

CPC20

CPCD30

CPC30

CPCD50

Load Rating(Kg)

2000

3000

5000

Load Center(mm)

500

600

Lifting Height(mm)

3000

Free Lift Height (mm)

100

Mast Tilt Angle α/β(deg)

6/12

Overall Length(mm)

2476

2687

3570

Overall Width(mm)

1149

1226

2000

Frame Height(mm)

2110

2125

2495

Ceiling Height(mm)

2100

2090

2460

Fork Dimensions L*W*T(mm)

1070*100*40

1070*125*45

1200*150*50

Front Clearance(mm)

462

477

610

Back Clearance(mm)

414

510

760

Front Tread(mm)

970

1000

1490

Back Tread(mm)

970

1520

Wheelbase(mm)

1600

1700

2200

Minimum Turning Radius(mm)

2185

2400

3250

Ground Clearance(mm)

145

155

200

Maximum Travelling Speed(FL/NL,Km/h)

19/20

26/28

Maximum Lifting Speed(FL/NL,mm/s)

530/500

450/430

330/450

Maximum Tr-active(FL/NL,Kn)

14/9.8

53/36

Maximum Climbing Speed(%)

20

Whole Weight(Kg)

3440

4400

8100

Front Tire

7.00-12-12PR

28x9-14PR

8.25-20-14PR

Back Tire

6.00-9-10PR

6.50-10-10

8.25-15-14PR

Engine Model

XinChai4D27G31

ChaoChai6102

Rating of Engine/Rotate Speed(Kw/r.p.m)

36.8/2650

81/2500

Maximum Torque(N.w/r.p.m)

156/1700-1900

353/1650

Minimum Fuel Consumption Rate Under Full Load(g/Kw.h)

238

Total Cylinder Capacity(L)

2.67

5.785

Gear(front/back)

1/1

2/2

1/1

2/2

2/2

Fuel Capacity(L)

60

175

Hydraulic Tank Capacity(L)

60

130
Advantage
l The forklift has a novel appearance modeling, roomy operation place and widened view.
l The forklift conforms to ergonomic operational devices. The operational capacity of complete machine is light.
l The operation of the forklift is smooth and reliable with efficient working.
l The advantage of the forklift is reasonable user-center design of the complete machine, strong universality, great stability and better overload capacity.
l The engine satisfies the requirements of National III emission standards. Also, starting speed is fast, fuel-efficient and low noise.
l Unitary welding frame, it is sturdy and durable.
l High-level Quality (the largest forklift manufacturer in China)
l All spare parts our forklift use must standard at least two technical tests, to make sure reliability.
LOW Price (Mass production)
l We are large forklift manufacturer, mass production largely lower our production cost.
l Although our price of forklift is lower, we have the high quality.
l The largest forklift exporter, Selling to more than 150 countries and regions
l As the largest forklift exporter, we have sold our forklifts to more than150 countries and regions, every year we export many unit to the world market.
Reliable After-sale Service
l Our Group only choose long cooperation suppliers, this greatly avoids the risk of breakdown in parts supply chain.
l With years' development, we have established mature dealership and service shop in more than 150 countries and regions. It's very easy to buy our spare parts and get maintenance cost in your local. While other brand can't do this.
l How low our forklift is, you can save much in maintenance cost in the future.