Product Description:
Profile
Side cantilever stacker is a kind of stacker-reclaimer equipment, which is mainly made up of scraper conveyor, suspension rod part, spacing mechanism of cantilever crane, lubricating system of chain, rack section, fixed end running gear, swing end running gear, steel rail laying, cable trough device, normal limit switching device of running gear, scraper, power cable reel, controlling cable reel and other parts, which is used in bulk material, such as stacking of limestone, iron ore and raw coal. It is a kind of large-scale blending processing equipment that realizes storage and blending material. Also, it is widely used in building materials industry, metallurgical industry, power sector for stacking and reclaiming operation.
In terms of the side cantilever stacker, the materials are unloaded on the adhesive tape machine by feed adhesive tape. Making use of the moving back and froth of trolley traveling, the materials are stacked in the storage yard. In the course of stacking, the cantilever adhesive tape machine is gradually elevated till it has stacked the material to the required height of material pile. And then, it will continue to stack another material. The side cantilever stacker can be operated to stack various material pile at the same time and contact with each other. The reclaimer matches with the stacker in the blending storage yard. The blending storage yard can be made up of mutual close to feed troughs, which can store different materials. But each feed trough only can store one kind of material. As a kind of large-scale blending process equipment which is used for stacking limestone, iron ore, raw coal and other bulk materials, the cantilever stacker can arrange the different materials in the delamination or sub-line way according to the related requirements, as a result, they can have uniform physical performance and property, besides, the normal stacking function and homogenizing treatment
The side cantilever stacker manufactured by our company can realize cross material piles operation. And it can stack different kinds of materials. Also, it can satisfy the requirement of various stacking technology. Range of stacking volume:50~4000t/h. Range of cantilever:11m~50m, which can realize unmanned operation of the side cantilever stacker and hydromechatronics with effective homogenization, low covering area and high degree of automation.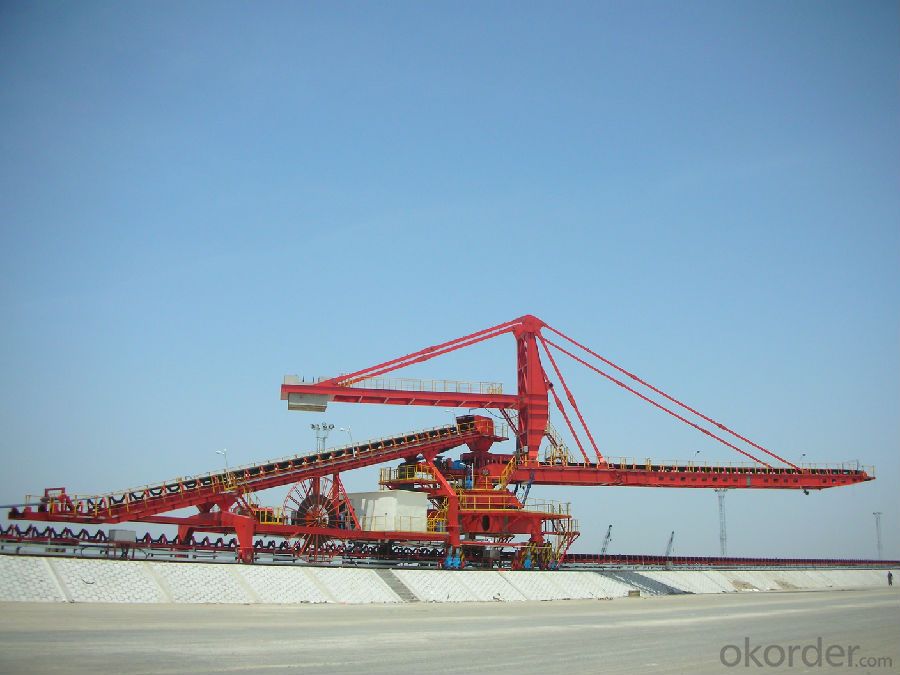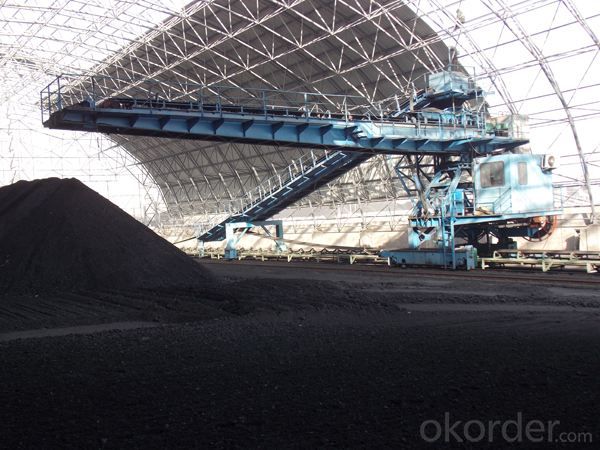 Technical Characteristics
The side cantilever stacker designed by our company greatly fulfills the processing property of overall design and the reliability and advancement of the equipment.
Meet the processing property
During the overall design, we completely follow the processes assigned by the Design Academy. And our company insure the capability and reverse capacity of the stacker and reclaimer. In the long type stock yard, we make use of different stacker process in line with different work conditions. In circular stock ground, we make use of continuous composition way of stacking ensure the effect of homogenization
Reliability
Our company adopts the advanced design method, such as, CAD, 3D design and optimal design of steel structure. With the experience and development of making stackers and reclaimers as well as absorbing the advanced technology from foreign country, we can guarantee that we make use of advanced and reasonable technology, safe and reliable equipment.
With the advanced produce equipment and craft, such as the steel pretreatment line is used to improve the quality of product and anti-corrosion capability, the large milling and boring machine improves processing quality of large parts. How to assemble the overall large-scale structural component is molded in workshop. Test run of parts of the drive must be developed. Parts of rotary is prepared by moulding. We make use of new materials, such as wear-resistance material, composite material.
In terms of the fittings, we adopt the first-class domestic products and advanced foreign products. The adopted soft start and frequency converting control will reduce the damage to the equipment. We set different kinds of protection measurements on the equipment. There are advanced testing measures and QC system in our plant. Devices adopt unmanned, automatic material stacking and taking operations, which has a high degree of automation products. We set several of stacking and taking operations on the equipment, which could satisfy different work conditions. Advanced frequency conversion is adopted and applied. Cooperating with the domestic universities and design academy in various ways, it makes better efforts in developing and researching stackers and reclaimers.
Sketch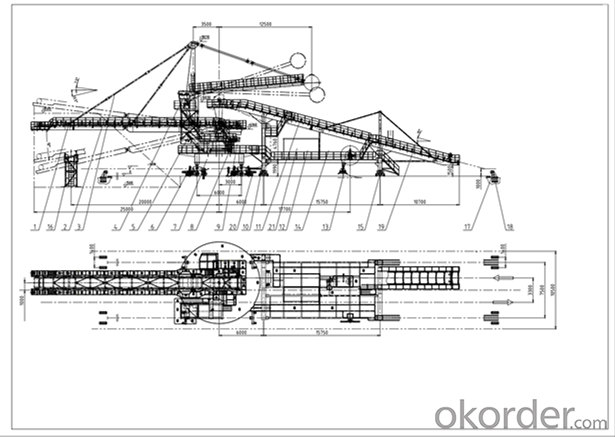 Technical specification
Equipment model

Units

DB250.14.5

DB800.22.5

SDB500.15

DBH700.37

DBH600.19.5

DBH1500.27.8

DBH2200.30

DBH3000.35

DBH4000.40

Name

Side cantilever stacker

Twin blades

Side cantilever rotary stacker

Production capacity

t/h

250

800

500

700

600

1500

2200

3000

4000

Material character

Application materials

Coal,coke, limestone, bauxite, iron ore, pellets stone, clay and other bulk material

density

t/m³

0.5~2.5

Particle size

mm

0~300

Arm length

m

14.5

22.5

15

37

19.5

27.5

30

35

40

Elevation angle

°

-17~+17

Conveyor

Width of belt

mm

650~2200

Speed of belt

m/s

1~4

Traveling speed

forward

m/min

9~15

Reverse direction

m/min

11~20

Truck gauge

m

4

4.5

4

6

5

6

7

8

8

Max. Wheel load

KN

250

Recommended steel rail

P38/P43/P50

Power supply methods

Cable drum/safety slide wire

Communication mode

Cable drum/safety slide wire/wireless

Control method

PLC Control, manual operation,single move
Model demonstration :S)DB(HKl) (2)
DB is on behalf on fixed-arm stacker, DBHM is on behalf of the stacker with rotation. The SDB is on behalf of twin blades
⑴-Reclaming capacity(t/h ) ⑵-length of cantilever(m)
FAQ
How to decide the turning radius and rotation angle of the side cantilever stacker?
Under the full consideration of the laying of the storage yard and the volume of material pile, it can cover the max. space of storage yard where the side cantilever stacker will not influence the equipment in the storage yard.
Whether if the side cantilever stacker can be transported on land route without obstacle?
In consideration of different despatch methods, the disassemble design has been designed in the course of design which can insure the side cantilever stacker can be transported successfully in line with kinds of limitation on the land route.
Whether if the spare parts or quick-wear parts is carried?
In line with the characteristic of equipment, the high frequency quick-wear parts will be carried with replacement. In the meanwhile, the quick-wear part list is provided that can be chose by user. The supplication commerce clauses should be signed with user for those prats that it has a large influence about cost.
How long will the side cantilever stacker needed to be maintained?
The maintaining period and maintaining methods are different in terms of different parts. The specified specification can refer to the maintenance instruction manual of equipment.